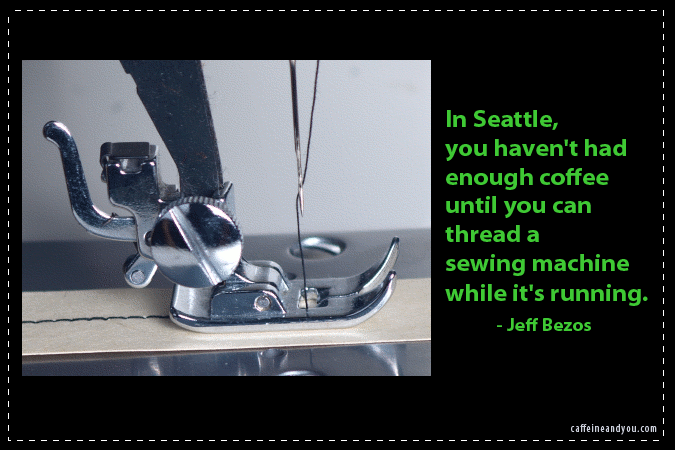 10 Best Coffee Quotes from Living People –

Tired of quotes as stale as yesterday's coffee, from dead people like Einstein and Lincoln? CaffeineAndYou.com delivers coffee quotes from living people – folks still kicking and ticking (at least for now). Don't forget to share the fun and leave Comments about your favorites…
"Do you love a decaffeinated hazelnut-flavored coffee from Dunkin' Donuts with plenty of sugar and skim milk? If so, please skip ahead to the next section. We're here to talk about tasting actual coffee, not sweetened brown milk."
– Ruth Bourdain, Comfort Me with Offal *
"In Seattle you haven't had enough coffee until you can thread a sewing machine while it's running."
– Jeff Bezos
"Starbucks says they are going to start putting religious quotes on cups. The very first one will say, 'Jesus! This cup is expensive!'"
– Conan O'Brien
"It just seems so watery…Really? That's what people drink everyday? I don't see the point in that."
– Anderson Cooper in 2011, on trying coffee for the first time
"I'll quit coffee. It won't be easy drinking my Bailey's straight, but I'll get used to it. It'll still be the best part of waking up."
– Megan Mullally
"This is your captain speaking. Welcome aboard flight…one, from…here to there. We'll be cruising at a height of ten feet, going up to twelve and a half feet if we see anything big. And our copilot today is a flask of coffee."
– Eddie Izzard
"Too much coffee. Too much coffee and Gatorade. It's a hell of a mix. If you're ever tired in the morning, just try that mix, and tell me what you think."
– Kevin Garnett
"I put instant coffee in a microwave oven and almost went back in time."
– Steven Wright
"At some point, all of us start wondering how much coffee we can drink before our hearts explode."
– Phil Broughton, Funranium Labs' Black Blood of the Earth
"What's silly is paying five bucks for hot milk and flavored syrup! But now I see what's really been going on all this time! They charge you all that money because they need it for the R & D! Somewhere on the outskirts of Seattle, there's a secret facility with higher security than Area 51, and inside there are men with poor eyesight and bad haircuts wearing white coats, and they're trying to make the Holy Grail of all coffee drinks… the Triple Nonfat Double Bacon Five-Cheese Mocha!"
– Kevin Hearne, from Hammered
And a bonus quote to put the crema in your coffee:
"I like light green, sometimes red is fun to look at, not a fan of yellow, unless it's in a rainbow or on a coffee mug or on a happy face."
– Chris Kattan  🙂 
* Technically Ruth Bourdain is a parody mash-up of Ruth Reichl and Anthony Bourdain. Ruth may not be real, but the mystery writer behind her voice is, so she's very much alive and kicking. And for more good quotes from authors and famous people (alive and dead), check out Goodreads.com.