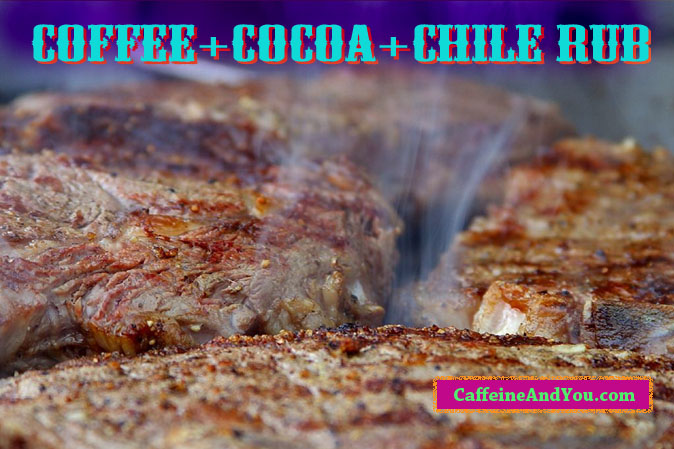 A pot of cowboy coffee and steaks on the campfire? Hmmmm…. maybe a backyard grill and icy margaritas instead. Whether you're heading out West or out back, punch up your menu with this aromatic rub.
I love mixing this blend just to smell the seductive aromas of coffee, cocoa and chile – the three C's. Plus, this rub radiates a warm kick from smoked paprika, mild and fruity ancho chile, allspice, and cinnamon. It's richly seasoned, but not tongue-burning hot.
Tips:
Try the rub with the marinade below for the perfect combination of flavors.

This makes enough for 2-3 steaks, but you can double or triple the recipe.

I've included measurements by weight, so it's easier to whip up a large batch.

Coffee, cocoa and chile are all rich in antioxidants.

Use an arabica coffee bean here; it's less bitter than robusta.
Coffee + Cocoa + Chile Rub
By Kate Heyhoe
Makes 1/3 cup (2-1/4 ounces or 63 grams)
1 tablespoon finely ground coffee (3g)

2 tablespoons turbinado sugar (22g)

1 tablespoon granulated sugar (10g)

1 tablespoon ancho chile powder (8g)

1-1/2 teaspoons allspice (4g)

1 teaspoon smoked paprika (3g)

1 teaspoon cinnamon (3g)

1 teaspoon sea salt (6g)

2 teaspoons cocoa powder (4g)
Combine all ingredients. Rub about 1 tablespoon on each steak (both sides). Leave on as a dry rub or marinate before grilling.
Kate's All-Purpose Steak Marinade
Pat on about 1 tablespoon spice rub on both sides of each steak. Marinate 2 sirloin or other steaks in 1 tablespoon each of olive oil, balsamic vinegar, and soy sauce. Refrigerate 2 hours or overnight before grilling.
Other uses for the rub: Kick up chili con carne for a boost of flavor, not heat. Add 1-2 tablespoons rub to a pot of chili, slow-cooker pork, or taco meat. Sprinkle on halved winter squash before baking, or mix into mashed sweet potatoes.