I'm an author and journalist specializing in food and cooking. Caffeine Basics is my ninth book. I've written about the U.S. wine industry, international foods, shrinking your "cookprint," and cooking with kids. Great Bar Food at Home was a James Beard Award finalist, and Cooking Green: Reducing Your Carbon Footprint in the Kitchen won a Green Book Award. Publishers include John Wiley & Sons, ClarksonPotter, Macmillan and others. Discover all my books here.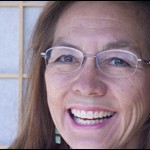 I'm also cofounder and editor of the Internet's first food and cooking site, now known as FoodWine.com. My husband and I live in the Texas Hill Country, near Austin, with assorted cats, dogs, toads, armadillos, turkeys, deer and other wildlife.
Books by Kate Heyhoe
• Cooking Green: Reducing Your Carbon Footprint in the Kitchen–the New Green Basics Way (Da Capo, 2009) – Award-winning lifestyle book with green tips, solutions and recipes
• Great Bar Food at Home (John Wiley & Sons, Oct. 2007) – Award-nominated entertaining book; a James Beard finalist, one of NPR's and Food & wine's's best books of the year
• The Stubb's Bar-B-Q Cookbook (John Wiley & Sons, April 2007) – Trade cookbook and biography of the founder of the world's leading brand of premium barbecue sauce
• A World Atlas of Food (McGraw-Hill, 2006)- A high school textbook integrating world cultures, geography and recipes
• Macho Nachos (Kindle and iBookstore editions, 2012, Forkmedia; first published by Clarkson-Potter, 2004) – A gift book, and favorite at Crate and Barrel
• Harvesting the Dream: The Rags-to-Riches Tale of the Sutter Home Winery (Wiley, 2004)- Business biography on the nation's fourth largest winery (as co-author)
• A Chicken in Every Pot: Global Recipes for the World's Most Popular Bird (Capital, 2003)- Single-subject cookbook on chicken
• Cooking with Kids For Dummies (IDG  Books, 1999) – Kid-and-parent cookbook with tutorials, for the popular "For Dummies" series
Praise for Kate Heyhoe
Cooking Green (Green Book Award winner):
"…when it comes to the green kitchen Kate Heyhoe is really the Green Goddess. A dynamic combination of Michael Pollan, Alton Brown, and Wonder Woman all rolled into one. After finishing this book you will definitely be convinced that you can help save the planet while preparing dinner every night."
– Project Foodie.com, Heather Jones  
"Cooking Green breaks new ground, deserving a place in every environmentalist's library. In simple language full of do's and don'ts for mindful cooking and eating, author Kate Heyhoe gives you all the information you need to shrink your cookprint, along with more than 50 recipes to get started. Not only does it thoroughly and thoughtfully present the new green basics of cooking, it provides the reasoning behind the recommendations, so as the climate changes, you can too, and so can your personal habits."
– Linda Mason Hunter, author and pioneer in America's green movement (hunterink.com)
"After reading through Cooking Green by Kate Heyhoe, I'm looking at my kitchen in a whole new way… The writing is authoritative, without ever being bossy or overbearing. If you are interested in greening your kitchen, there is plenty of food for thought in this book."
– Planet Green
 Great Bar Food at Home (James Beard Award finalist): "At restaurants, chefs are teaming up with mixologists to create delectable snacks to go with inventive drinks. Great Bar Food at Home is the first good book dedicated to re-creating these dishes at home – perfect for anyone who likes throwing cocktail parties…The result is a fun, handy compilation of simple, irresistible snacks."
– Food & Wine Magazine's Best of the Best: The Best Recipes from the 25 Best Cookbooks, 2007
 Macho Nachos: "The author, who grew up in Texas, notes that the French "would probably utter 'Sacrebleu!' to see a majestic monastery cheese such as Pont-l'Eveque or a delicately nutty Gruyere de Comte adorn a nacho. But don't let that stop you."
– Texas Monthly
 The Stubb's BBQ Cookbook: "Who could resist a bowlful of smoky, salty Black Eyed Peas 'n' Bacon or a square of Cheddar Corn Bread, which packs a little corn sweetness and a serious jalapeno punch? From appetizers to entrees to sides and salads, almost every tasty-looking recipe begs to be tried.
– Publishers Weekly
Cooking with Kids For Dummies: "Cooking for millions of television viewers is a breeze compared to cooking for my two six year-olds at home. I am thrilled that Kate Heyhoe has written a book just for me. Cooking With Kids For Dummies is more than a book filled with fun recipes. It offers nutritional tips and cooking techniques that are designed especially for those of us who have little ones around the kitchen. The family that cooks together stays together and with this book, we can do it with so much fun."
– Martin Yan, Yan Can Cook, chef, author and TV host
 Harvesting the Dream: "…is that rare book: It exceeds the high promise of its title. Its chapters…cultivate and harvest the exceptional story of Sutter Home Winery and the remarkable Trinchero family…a must read."
– John DeLuca, Executive Vice Chairman, Wine Institute
A Chicken in Every Pot: "Add this book to your cooking library! Kate Heyhoe has a broad knowledge of the world's best cuisines. In this book, Kate takes us around the world, tempting our taste buds with exotic flavors. This complete guide ensures there will be a tender, tasty chicken in everyone's pot."
– Linda Gassenheimer, "Dinner in Minutes" syndicated columnist, radio host, and author
FoodWine.com: "The editor, Kate Heyhoe, is one of the best food writers in the country. I try to visit the site often just to see what she's thinking."
– Mollie Katzen, TV host and Author, in HEALTH Magazine's The 25 Best Web Sites for Women
"Clearly, in the online food and cooking arena, Kate Heyhoe is a true pioneer, one who has set a standard of excellence and become an infopreneur role-model."
– Ted Leonsis, financier and former Vice Chairman, America Online, Inc.
Hundreds of features about Kate Heyhoe and FoodWine.com have appeared in media as diverse as The New York Times, The Wall Street Journal, USA Today, TIME, Los Angeles Times, CBS' The Early Show, Parade, FoodArts, WOR, Bloomberg, and Sony World Wide radio networks. Kate has written for Better Homes & Gardens, Saveur, Cooking Pleasures, Chile Pepper, Great Chefs, and other publications.