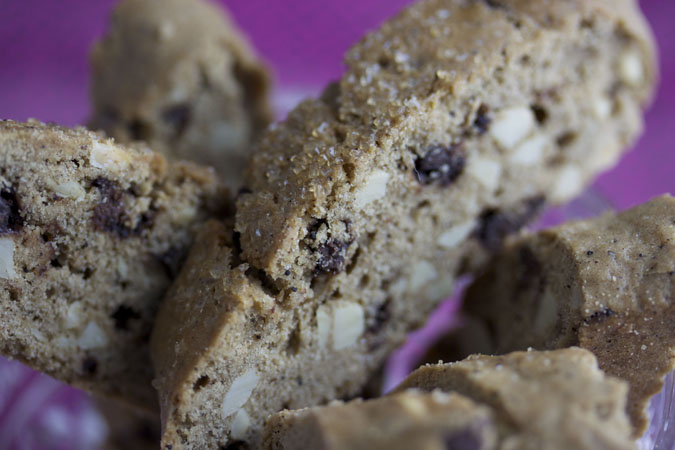 Whoa! These babies are like cappuccinos that crunch. Each bite is rich and dreamy with cinnamon, almonds, coffee, and tiny chocolate chips. Dunk into coffee or nibble on them as you sip. Butter and eggs make them crisp yet tender. They're good for dunking, and hold their shape nicely. And unlike liquid cappuccino, they don't spill.
Chocolate Chip Cappuccino Biscotti
By Kate Heyhoe
2 teaspoons warm water

1-1/2 tablespoons instant espresso powder

2 teaspoons vanilla extract

12-3/4 ounces (2-3/4 cups) unbleached all-purpose flour

1/2 teaspoon baking powder

1/4 teaspoon sea salt

1 teaspoon cinnamon

1/4 ounce (2 tablespoons) coarsely ground coffee beans

1/2 cup (1 stick) salted butter, softened

5 ounces (2/3 cup) fine or regular granulated sugar

3 large eggs, at room temperature

4-1/2 ounces (1 cup) chopped slivered blanched almonds

4 ounces (2/3 cup) mini-chocolate chips (like Nestle semisweet mini), or chopped bittersweet chocolate

Turbinado or demerara sugar as garnish (optional)
1. Preheat the oven to 350 degrees F. Line a sheetpan with parchment. Place a second sheetpan under the first to prevent scorching.
2. In a small bowl, microwave the water to warm it if it's not already warm. Stir in the espresso until dissolved. Add the vanilla extract. Set aside.
3. In a medium bowl, stir or whisk together the flour, baking soda, salt, cinnamon, and ground coffee beans.
4. In the bowl of a stand mixer, cream together the butter and sugar on medium until smooth and slightly shiny, 2-3 minutes. Mix in the espresso mixture and scrape down the sides as needed.  Add the eggs one at a time, beating well (15 seconds) and scraping the sides after each addition.
5. Set the mixer to low and blend the flour mixture into the eggs, just until there are no more patches of flour. Scrape down the sides.
6. Add the almonds and chocolate chips. Mix on low just until blended and all ingredients are evenly incorporated. The mixture will be thick and stiff, in large clumps – good! That's what you want.
7. Dump the dough onto a floured surface, and with floured hands, shape into 2 logs, each about 13 inches long. Press down on the top and flatten to 2-inches across.
8. Place the loaves 4 inches apart on the sheetpan. Dampen them with wet hands to add sheen. Press some turbinado or demerara sugar into the top. Bake 30-35 minutes until firm but not too hard. (Rotate the pan halfway through.) The tops should have a slight give when pressed. Set the pan on a cooling rack and let cool completely, so the chocolate doesn't smear during slicing. You can turn off the oven now and let them cool for an hour or several hours; or reduce the heat to 275 degrees F. and bake the second time as soon as they're cool enough to cut.
9. Using a serrated knife, slice the logs into 3/8- to 1/2-inch thick slices. Arrange the slices evenly on the same sheet pan and parchment; the slices should be standing upright, with some space between them.
10. Make sure the oven is preheated to 275 degrees F. Bake 40-45 minutes, rotating the pan halfway through. Biscotti should be slightly soft in the center when touched, and will crisp up on cooling. Cool on the pan on a rack. Biscotti may be wrapped well and frozen for up to 3 months. Makes about 40 biscotti.