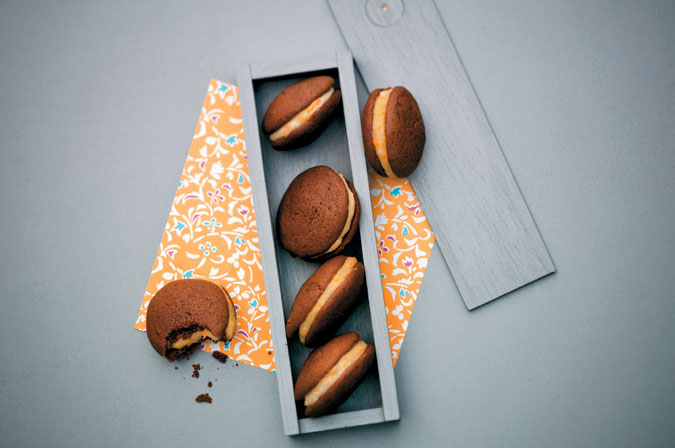 The combination of Nutella and orange makes eating these little cakes complete bliss…
Makes 15 Whoopie Pies
Preparation: 30 min. Cooking: 10 –15 min. Chilling time: 1 hour
For the cream filling:
1 orange

75 g (5 tbsp) unsalted butter

50 g (1/4 cup) caster/superfine sugar

1 egg

75 g (1/3 cup) Philadelphia-style cream cheese
 For the whoopie pies:
125 g (1-3/4 cups) plain/all-purpose flour

1 tsp baking powder

40 g (3 tbsp) unsalted butter

40 g (scant 1/4 cup) caster/superfine sugar

1 egg

100 g (scant 1/2 cup) Nutella

20 g (2 tbsp) cocoa powder

100 ml (scant 1/2 cup) semi-skimmed milk

a pinch of salt
1. Preheat the oven to 180 degrees C (350 degrees F/Gas 4).
2. Make the cream filling. Finely grate the orange zest and squeeze the juice. Melt the butter in a bain-marie or in a bowl over a pan of simmering water. Add the sugar, egg and the juice and zest of the orange. Beat continuously until the mixture thickens. Remove from the heat and leave to cool. Beat in the cream cheese; then chill for 1 hour.
3. Make the whoopie pies. Mix together the flour, baking powder and salt. In a separate bowl, beat together the butter and sugar. Add the egg, Nutella, cocoa powder and milk. Mix well then add the flour and baking powder mixture.
4. Place 30 small spoonfuls of the mixture on a baking sheet covered with baking parchment. Bake for 10–15 minutes. Remove from the oven, leave to cool on a cooling rack, then sandwich together with the cream filling.
For more recipes:
Nutella: The 30 Best Recipes, by Ferraro U.S.A. Also available as an ebook.