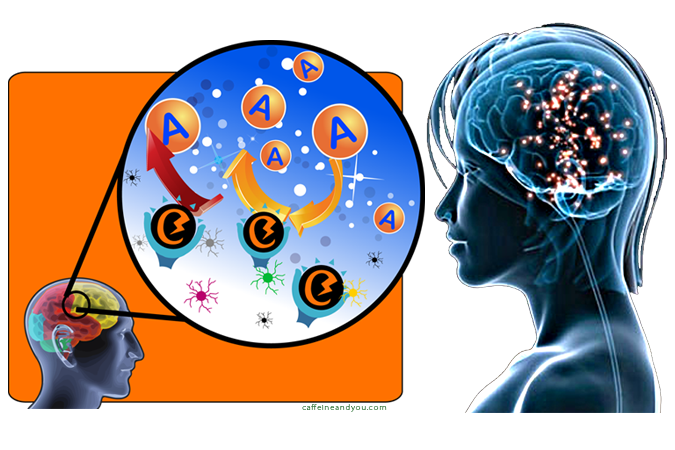 Coffee, tea, chocolate and cola drinks are the most traditional sources of caffeine. Energy drinks and energy shots are the latest methods to boost your body with caffeine. So what happens when you perk up with one of these substances?
Throughout the day, brain cells create a neurotransmitter known as adenosine. Adenosine, often shortened to "ado," is the first key to understanding how caffeine works. It's what makes us sleepy and triggers hibernation in animals.
Adenosine gradually builds up throughout the day, giving us energy, until it reaches a saturation level. To stop its own activity, and keep us from being endlessly active, ado bonds to specific receptors – and this leads to deep, restorative sleep.
That is, of course, unless caffeine invades the brain.
Caffeine, The Great Imposter
To adenosine receptors, caffeine looks and acts remarkably like the real adenosine, so they say, "Okay, let's bind to this guy" (not realizing he's really caffeine). The binding of adenosine normally slows you down, but when it's bouncing around in your brain, you're energized and your nerve cells are speeded up. Along comes caffeine: your adenosine cells should be heading to bed, but caffeine has blocked the bedroom door.
So adenosine continues to party, and you feel alert. Meanwhile, caffeine works the room, chatting up the central nervous system with all sorts of stimulating conversation. Caffeine's mere presence literally punches the brain's happy button; it coaxes the brain's pleasure center to release the ever-popular dopamine, a neurotransmitter that creates happy feelings of well being and good mood.
Neurotransmitters Join the Party
Once your neural pathways start firing on all cylinders, the "fight or flight" mode kicks in; adrenaline spikes, giving you that get-up-and-go boost. When adrenaline (also known as the hormone epinephrine) is released, the body goes into a heightened state of alert. Everything starts speeding up. Your blood pressure and heart rate rise, and your blood sugar spikes to release even more energy. You feel alert and your appetite is suppressed.
But as the caffeine in your brain subsides, so do these effects. Dopamine and adrenaline levels relax, and the real adenosine pushes past the withering caffeine to bond to its receptors.
Over time, everything returns to normal. Nerve cell activity slows down. But the brain remembers just how good that caffeine rush feels. And some experts say this feel-good state is what really leads to a caffeine habit.
But this is just a short story. Caffeine's complete effects on the brain and body are far more intricate and subtle, as we'll see later.