Orange-Spiced Tea with Organic Lime-Maté Boost 
Makes 1 serving; about 120 mg caffeine
by Kate Heyhoe
If you prefer tea to coffee and savory to sweet, this is the bumped-up brew for you. One cup packs more than twice the caffeine of regular black tea, with a balanced citrusy taste that's neither bitter nor sweet. The sophisticated flavor is one that's good to sip on, and the brew surpasses coffee when it comes to the morning jolt.
The Guayaki Yerba Mate Organic Energy Shot is a bit pricey at over $3 for 2-ounces, but you can use part of a bottle and refrigerate the rest for up to 5 days. It's handy for customizing your buzz level: 1 tablespoon contains 35 mg of caffeine. (One 2-ounce bottle = 4 tablespoons, or 12 teaspoons). I like the flavor, and it doesn't have that faux-sweetener aftertaste found in other energy shots.
In this recipe, orange-spiced black tea (like Constant Comment) meets half a bottle of Guayaki's lime-tangerine flavored mate energy shot, which injects 70 mg of caffeine to the tea. Assuming an 8-ounce cup of brewed black tea contains 50 mg of caffeine, then this bumped up brew boasts a minimum of 120 mg of caffeine – more than in a cup of coffee.
Recipe:
1 (8-ounce) cup brewed orange spice black tea [about 50 mg caffeine]
1 fluid ounce (about 2 tablespoons) Guayaki Yerba Maté Organic Energy Shot, Lime Tangerine flavor [70 mg caffeine]
Stir the maté shot into the hot tea. Enjoy it plain or add sweetener as desired.
Note: The caffeine content of tea depends on many factors, including how long it's brewed and the type of tea leaves. This book uses 50 mg of caffeine as an average for black tea, but one 8-ounce cup can range from about 15 to 75 mg.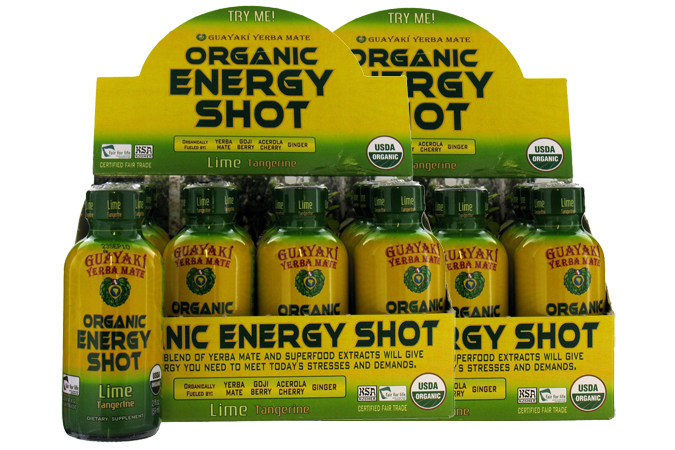 EXCERPT from Caffeine Basics:
Product Profile: Guayaki Yerba Maté Organic Energy Shot, Lime Tangerine
A 2-fluid ounce bottle sells for around $3
140 mg caffeine
35 calories
USDA organic; fair trade certified, vegetarian, kosher
Main ingredients: organic yerba mate, goji berry, acerola cherry, and ginger (with purified water, citric acid, organic lime and tangerine extracts)
Sweetener: organic evaporated cane juice
Contains: 1670% of Vitamin B-12 RDA, 100% of Vitamin C RDA; antioxidants
NO: GMO's, High Fructose Corn Sweeteners, Preservatives, Artificial flavors or Colors.
Also comes in Lemon and Chocolate-Raspberry flavors.