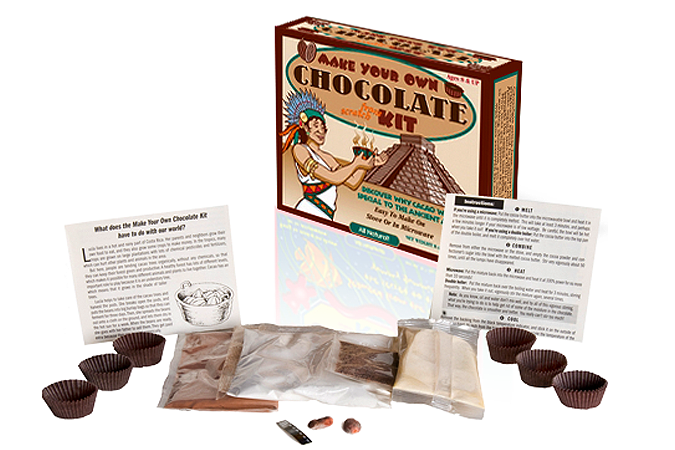 Exactly how is chocolate made? The raw ingredient from the cacao tree undergoes several steps before becoming the luscious product sold as kisses, bonbons, and bars. Now, kids and adults can experience part of the process with this Make Your Own Chocolate Kit. It contains simple instructions and packets for making eight ounces of dark chocolate on the stovetop or in the microwave. The kit skips the fundamental steps of harvesting and fermenting raw cacao beans, but you'll get a good feel for what a chocolatier does.
Created by the makers of Glee Gum, this DIY chocolate kit contains Fair Trade and organic cocoa butter, cocoa powder, confectioner's sugar, starter crystals, a temperature indicator, paper candy liners, an educational story about the history of chocolate, plus a few cacao beans to nibble on.  Melt the cocoa butter, stir in the cocoa powder and sugar, let cool to the right temperature, and temper the chocolate with the starter crystals. Voila! Homemade chocolate. The Make Your Own Chocolate Kit retails for $13.95; it's sold at gift stores and online at GleeGum.com.
By the way, if you're keen on serious chocolate making, dive into Navitas Naturals selection of cacao products. They sell organic premium cocoa butter, cocoa powder, cacao beans (whole), and nibs (more details in a future post, but for now, explore Cacao under the Products menu at NavitasNaturals.com).