Technically, caffeine is a type of psychotropic drug (also called a psychoactive drug). That is, it affects the central nervous system and alters brain activities associated with mental processes, perception and behavior.
Caffeine: Listed or Hidden?
When caffeine occurs naturally (as in coffee, tea, or chocolate), the FDA does not require caffeine to be listed as a separate ingredient. So a Hershey's Kiss or bottle of Starbuck's Frappuccino doesn't need to specify caffeine. Nor does an energy drink when the caffeine is part of a natural botanical source, like guarana or yerba mate.
But when caffeine is present as an additive, the FDA does require it to be listed as an ingredient; this applies to foods, beverages, over-the-counter and prescription medicines, and dietary supplements – which include energy drinks and energy shots – but not to soft drinks.
Sodas are not dietary supplements. Soft drink makers got a special pass from the FDA back in 1980, when they argued caffeine was added just as a flavor enhancer – a claim that appears to be more myth than fact. Consequently, they are not required by the FDA to list the amount of added caffeine they contain, though the amount must not exceed 71 mg per 12 ounces. Only recently do some soft drink makers voluntarily print caffeine amounts on their labels, which we'll get into later.
A Monster Energy Example
In 2013, Monster Energy  – and a few other energy drinks – switched from being classified as a dietary supplement to being classified as a food (or specifically, a beverage). Monster's formula is the same, and it still loads the same amount of caffeine, but the information on the can is different.
The new Monster can sports a Nutrition Facts panel and adds  "CAFFEINE FROM ALL SOURCES: 80 mg PER 8 FL. OZ."
The old Monster wore a Supplement Facts label and the standard dietary supplement disclaimer that reads "These statements have not been evaluated by the Food and Drug Administration. This product is not intended to diagnose, treat, cure or prevent any disease." The old Monster also lists caffeine, but not the amount, and only as an ingredient in its proprietary "Energy Blend," which also includes guarana, inositol, glucose and other substances.
Here's what's puzzling for consumers: Unlike sodas which are limited to 71 mg per 12 ounces, the recategorized new Monster contains much more than 71 mg per 12 ounces; an 8-ounce portion still delivers 80 mg of caffeine. Which points out the flaws in the FDA's regulations. Many would argue that the fizzy sweet Monster Energy drink tastes and looks just like a soft drink.
Even the FDA's deputy commissioner Michael R. Taylor says the rules on caffeinated products appear to be outdated, and the agency is looking at ways to revamp them.
Caffeine Confusion for Consumers
So, if it looks like a soda, and tastes like a soda, but it's more caffeinated than a cup of coffee, it's probably an energy drink. If the FDA classifies the energy drink as a type of dietary supplement, caffeine may be added in any amount as long as it's not known to be harmful. (Terms like energy drink and energy shot are purely marketing terms, not FDA categories.)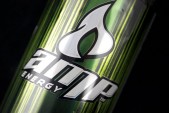 In the U.S., whenever an energy drink, energy shot and energy gel  or other caffeinated edible is approved by the FDA as a "dietary supplement," it's permitted to be sold without limits to the caffeine content, because the FDA does not consider them food. So even though caffeine is a stimulant drug, it's not regulated as a drug by the FDA – when it's an ingredient in a dietary supplement.
Things get especially murky when you realize that a Starbucks Doubleshot Energy drink is considered a food, while a Java Monster Loca Moca is a dietary supplement, yet both contain the same amount of caffeine in a 15-ounce can.
To the average consumer, they're all just caffeinated beverages.
How to tell the difference? Look at the label:
Supplement Facts – appears on dietary supplements

Nutrition Facts – appears on foods (and beverages)
When a product is classified as a dietary supplement, it gets to play by different rules, as the next section explains…