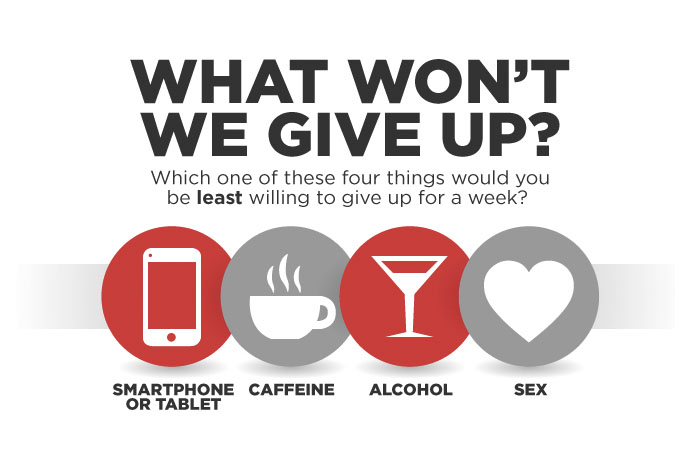 Caffeine has us hooked – and so do smartphones. Sex? Not so much.
At least for certain age groups and genders, according to a poll by Mason-Dixon Polling & Research, Inc. which surveyed 1,000 registered voters nationwide.
Respondents were asked what they would be least willing to give up for a week, if given a choice between sex, smartphone/tablet, alcohol, or caffeine.
Sachs Media Group's infographic shows the results, which are excerpted below. Here's what buzzed through my brain when I saw the numbers…
Caffeine Trumps Everything Else
Nationally, respondents said they'd give up alcohol, sex and maybe their smartphones before they'd forego caffeine.
Smartphones May Be Habit-Forming: Smartphones ranked almost equal to caffeine in importance.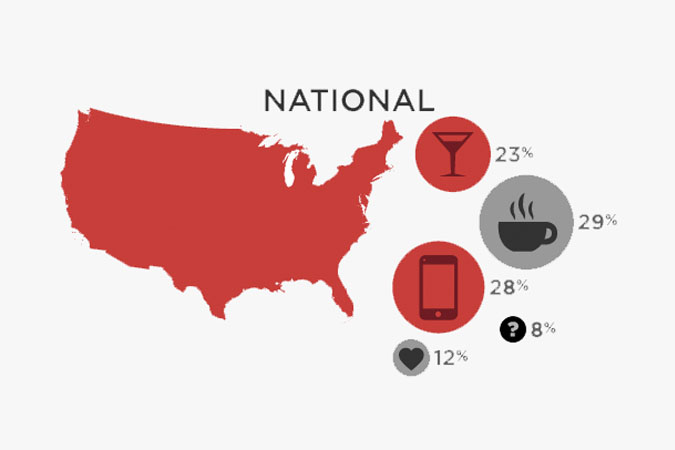 Caffeine Is More Important As You Age
Baby Boomers – people in their 50s and older – prized caffeine the most. Among ages 18-49, smartphones were more important than caffeine (but nationally, it was a tough choice).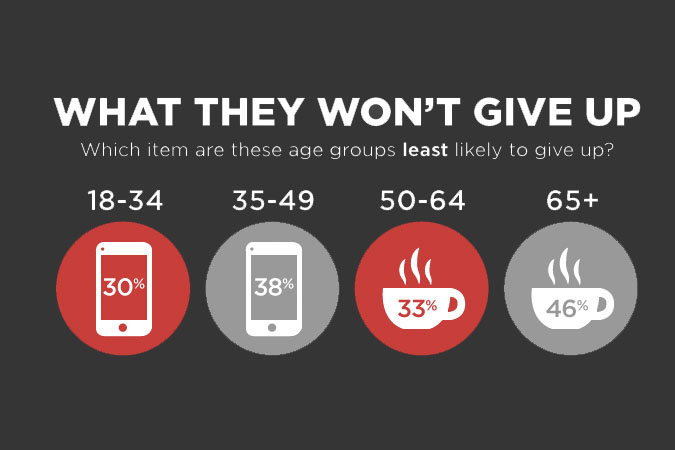 Sex is Overrated
Caffeine was more important than sex, for all age groups. But then again, smartphones and alcohol were also more important than sex.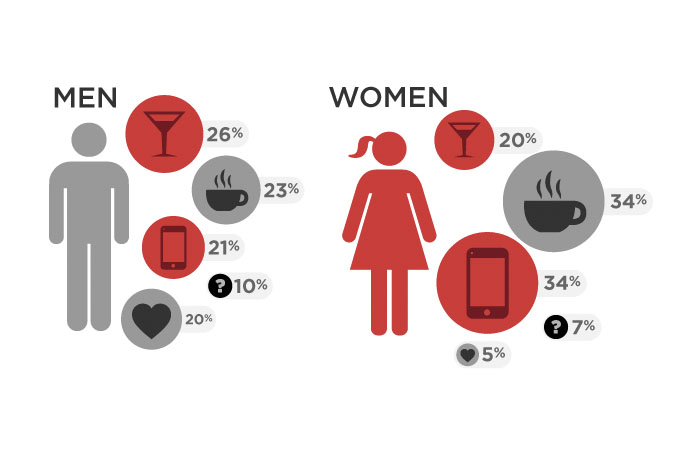 Men Love Alcohol More Than Women Do: As a group, men were least willing to give up alcohol; caffeine was next on their list, followed by smartphones, and then sex.
Women Love Caffeine and Smartphones More Than Alcohol: As a group, women were equally torn between giving up caffeine and smartphones. But they'd easily give up alcohol and sex.
The complete poll also shows how Republicans, Democrats, and Independents value their caffeine, smart phones, alcohol and sex. Which group has the biggest sex drive? You might be surprised: View the full infographic by Sachs Media.
Source: March/April 2013 Sachs Media Group National Poll Results Infographic. 1000 registered voters were interviewed nationwide by Mason-Dixon Polling and Research Inc (+/- 3.2% margin of error)
* * *
So people, tell us: how important is caffeine to you? Could you go without it for a week? How about a day? Have you ever tried kicking the caffeine habit, and if so, what happened? Post your comments below.